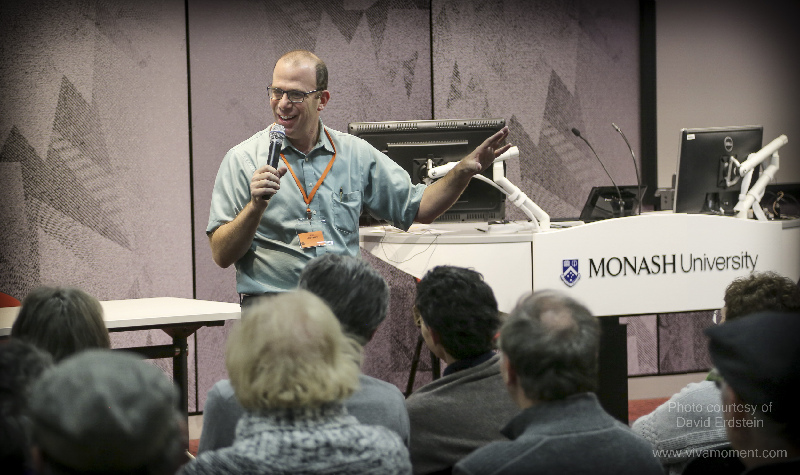 Dr. Hoffman teaching at Monash University in Melbourne, Australia.
APPEARANCES
Known for his "fresh insights and inter­pretations about religious life in the 21st century," Dr. Joel M. Hoffman is a popular and engaging presenter whose circuit brings him around the world.
To schedule a book signing or other event, contact him directly.
His summer appearances include:
| | | | | | |
| --- | --- | --- | --- | --- | --- |
| Date | Location | Venue | Address | Time | Notes |
| Jun. 29-31: | Nantucket, MA | Shirat HaYam | | | |
| Jul. 20: | East Hampton, NY | Jewish Center of the Hamptons | 44 Woods Lane | 6:00pm | Shabbat on the Beach |
| Jul. 21: | East Hampton, NY | Jewish Center of the Hamptons | 44 Woods Lane | 12:00pm | Torah Study |
| Jul. 21: | East Hampton, NY | Jewish Center of the Hamptons | 44 Woods Lane | 8:00pm | Tisha B'av Teaching |
| Jul. 31: | Hartford, CT | University of Hartford | | | NewCAJE |
| Aug. 17: | East Hampton, NY | Jewish Center of the Hamptons | 44 Woods Lane | 6:00pm | Shabbat on the Beach |
| Aug. 18: | East Hampton, NY | Jewish Center of the Hamptons | 44 Woods Lane | 12:00pm | Torah Study |
| Aug. 24: | East Hampton, NY | Jewish Center of the Hamptons | 44 Woods Lane | 6:00pm | Shabbat on the Beach |
| Aug. 31: | East Hampton, NY | Jewish Center of the Hamptons | 44 Woods Lane | 6:00pm | Shabbat on the Beach |
| Sep. 1: | East Hampton, NY | Jewish Center of the Hamptons | 44 Woods Lane | 7:00pm | S'lichot Evening Teaching |