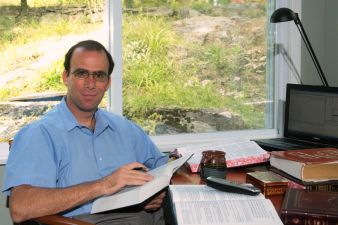 THE GLAMOUR OF THE GRAMMAR
Dr. Hoffman's bi-weekly Hebrew column in the Jerusalem Post.
(Looking for the Jerusalem Post article on the history of the alpahbet? It's here.)
Please note: The Jerusalem Post reorganized their site earlier this year, so the links below don't work. We're working on updating all of the links. In the meantime, the following link to search results on jpost.com may be helpful:
Search for Dr. Joel M. Hoffman's Jerusalem Post Articles.
Count On It (September 11, 2009)

Side By Side (August 28, 2009)

It's The Little Things (August 14, 2009)

'Tis The Season (July 31, 2009)

I Have an Answer (July 17, 2009)

Say Little (July 3, 2009)

More or Less (June 19, 2009)

I Have a Question (June 5, 2009)

Helping Hands (May 22, 2009)

Resumption Presumption (May 8, 2009)

In Search of Order (April 24, 2009)

Dot Dot Dot (April 10, 2009)

Cause of Action (March 27, 2009)

I Say Again (March 13, 2009)

Dangerous Curve Ahead (February 27, 2009)

More Building Blocks (February 13, 2009)

First Things First. (January 30, 2009)

And Jubal, His Brother. (January 16, 2009)

Between You and Me. (January 2, 2009)

Me and You. (December 19, 2008)

Modern Stress. (December 5, 2008)

Stress Management. (November 21, 2008)

What Goes Around. (November 7, 2008)

Protocol. (October 24, 2008)

Two Whom It May Concern. (Octrober 17, 2008)

Remember This. (October 3, 2008)

First Things First. (September 19, 2008)

A Second Suggestion. (September 5, 2008)

Girl People And Boy People. (August 22, 2008)

Double Or Nothing. (August 8, 2008)

A Stiff-Necked People. (July 25, 2008)

As Easy as One, Two, Three. (July 11, 2008)

Reason for Pause. (June 27, 2008)

Dot One, Part Two. (June 13, 2008)

It's Nothing New. (June 6, 2008)

Yeah, Yeah. (May 23, 2008)

One Little Dot. (May 9, 2008)

Say Ah. (May 2, 2008)

You know what they say. (April 21, 2008)

Building Blocks. (April 4, 2008)

What the ...? (March 21, 2008)

I'll buy a Vowel (March 7, 2008)

What to Do? (February 22, 2008)

Have It Your Way. (February 8, 2008)

It's Like This. (January 25, 2008)

Can I Borrow a Word? (January 11, 2008)

These are a Few of My Favorite Words. (December 28, 2007)

And Yet Another Thing. (December 14, 2007)

And Another Thing. (November 30, 2007)

What Is Et? (November 16, 2007)

The Birds and The Bees (November 2, 2007)

Shalom (October 19, 2007)